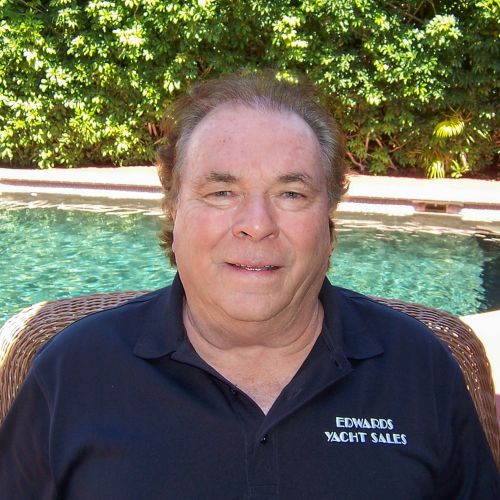 Kirk is a very experienced boatsman, having owned 17 boats in the past 30 years, ranging from sail boats, to motoryachts, to large pilothouse trawlers. He has enjoyed boating in some of the best waters on earth, including the pristine coastline of the Pacific Northwest from Washington to British Columbia, and the waters off California from San Diego to San Francisco, having first been introduced to boats on the Great Lakes and finally the waters of South Florida. As far as Kirk is concerned, "there's no other place to be, but on the water".
Testimonials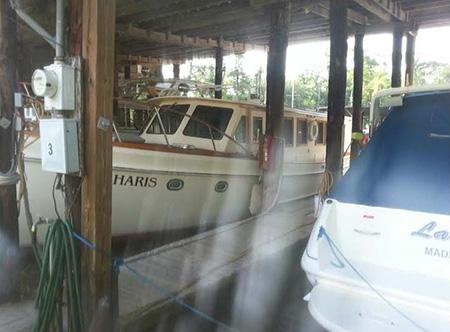 Kirk,
Thanks all for an enjoyable purchase of Charis. I'm back in Louisiana with her, arriving on June 16th.The boat performed great covering 900 miles in 9 days. Weather was off and on because of tropical storm Colin. Only part of trip we experienced an uncomfortable ride was the Boca Grande to Panama City 174 NM crossing of the GOM. It was overnight and 6 foot seas, still felt safe but just prefer inside cruising with daylight.
My wife loves the boat and we're set to do an overnight at Bay St Louis, Miss this weekend. Floating Marina docks, antique shopping and good restaurants.
Again, great meeting everyone. Thanks Kirk, will let you know when in the area for that dinner.
Viking 44 Motor Yacht

Hunter 340

Hunter 33

Hunter 33

Heritage East Sundeck Trawler

Morgan Out Island 41

Catalina 350

Hyatt 51 Motor Yacht

Grady-White Marlin 300

Marine Trader Tradewinds 43 Sundeck

Hunter Legend 35.5

Sea Ray 450 Sundancer

Carver 406 Aft Cabin Motor Yacht

Catalina Morgan 38 CC

Freedom Yachts 45 CC

Chris White Juniper 2 Trimaran

Chris White Juniper II

Pearson 10 M

Young Sun Pilothouse Cutter

Beneteau 343

Willard Marine Trawler

Grady-White Marlin 300

Hanse 312

Bayliner 4550 Pilothouse Motoryacht

Freedom Yachts 45 CC

Cruisers Yachts 440 Express

Offshore Yachts CPMY

Offshore Yachts 62 Pilothouse

Offshore Yachts 62 Pilothouse

Vagabond 47

Vagabond 47

Endeavour EndeavourCat 36

Carver Super Sport

Carver Super Sport

Glacier Bay 3470 Ocean Runner

Glacier Bay 3470 Ocean Runner

Marine Trader Tradewinds 43 Sundeck

Gulfstar Sail cruiser

Gulfstar Sailcruiser Cockpit Sloop

DeFever Long Range Cruiser

DeFever Long Range Cruiser

Hunter 456 Passage

Vinette Long Range Steel Trawler

Beneteau 393

Beneteau 393

Offshore Yachts Cockpit Motor Yacht

Offshore Yachts 48 Cockpit Yachtfisher

S2 11.0A

Cruisers Yachts 385 Motor Yacht

Ocean Alexander Double Cabin

Tidewater Custom 280 CC

Mediterranean Convertible

Offshore Yachts Cockpit Sundeck Trawler

Carver 430 Cockpit Motor Yacht

Avenger MOTOR YACHT

Marine Trader Tradewinds 43 Sundeck

Stamas 44 Ketch

Bertram Cockpit Motor Yacht

Cabo Rico 38 Plan B Cutter

Luhrs Express Sportfish

Silverton 372 Motor Yacht

Young Sun 43 Offshore Cutter

Eagle Sedan Trawler

Pearson 31-2 Sloop

Hunter 430

Stamas 44 Ketch

Gulfstar Sailcruiser Cockpit Sloop

Hatteras Motor Yacht

Beneteau First 32.5

Sea Ray Sundancer 320

Sea Ray Sundancer 500

Sea Ray Sundancer

Bristol Yawl

Newport Sloop

Sea Ray Sundancer 400

Sea Ray 305 Sedan Bridge

Beneteau 393

Glastron GS 279

Silverton AFT CABIN

Albin Sportfish

Sea Ray Diesel Sportfish

Alberg Sailboats yawl

Newport Sloop

Newport Sloop

Grady-White Marlin

Heritage East Sundeck

Crownline 252 EX

Chaparral 254 SUNESTA

Chaparral 254 SUNESTA

Beneteau Oceanis CC

Formula PC

Ta Shing Yachts Panda 38 Cutter

Formula 31 PC

Novatec Sundeck Trawler

Meridian 490 Pilothouse

Nauticat Motorsailer

Nauticat Motorsailer

Pro Sports 2860 Center Console

Grand Banks Classic

Grand Banks Classic

Trident Warrior

Trident Warrior

Sea Ray Sedan Bridge

Marine Trader Tradewinds Sundeck

Hatteras Motoryacht

Bertram Convertible W/ Half Tower

Silverton AFT CABIN

Bertram Motor Yacht

Hatteras Cockpit Motor Yacht

Litton Sedan Trawler

Tollycraft Cockpit Motor Yacht

Fountain Fever

Ocean Yachts Convertible Sportfish

Morgan 461

Silverton Convertible

Irwin Center Cockpit

Albin Trawler, Many Updates!

Thompson Adventure 288

Hatteras Motor Yacht

Sea Sport 2544 Walk Around

Bayliner Ciera 305 Sunbridge

Sea Ray Sundancer

Monk Double cabin Trawler

Hyatt Sundeck Trawler

O'Day Center Cockpit

Island Trader Pilothouse Trawl'r Motorsailer