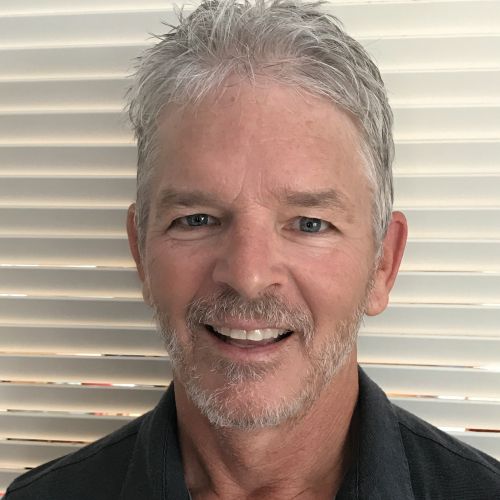 Captain Tom Morton - Multihull Specialist
Tom learned the pleasures of boating at an early age, spending every summer in his youth cruising the Great Lakes on his family's powerboats. He learned to sail on dinghies, one designs, and beach cats through his college years. He sailed a variety of "classic plastic" boats through the years with his wife and three children, ultimately evolving into a multihull enthusiast.
After a rewarding career in the restaurant business, Tom followed his passion for boats to a second career as a yacht broker. Joining the EYS team in 1996, Tom was instrumental in developing EYS' strong presence in the Florida multihull market, and has sold everything from folding tri's to world cruising cats.
Tom owned a charter catamaran in the Caribbean for over a decade and now enjoys sailing his Voyage 500 catamaran from his home in St Augustine to the Bahamas and beyond.
With hundreds of successful sales over his career at EYS, Tom has the knowledge and experience to make everyone's cruising dreams a reality.
Testimonials
Dear Mr. Harris,
When we purchased our trawler, Spring Break, in 2002, we were represented by Roy Edwards who spent many weeks helping us search for the right vessel. Because we were first time trawler buyers, Roy had the additional burden of educating us on the many variables (brands, types, configuration, options, etc) of this wonderful subset of motor yachts. Roy very quickly earned our complete confidence by his knowledge, dedication and professionalism. That was before he had founded EYS.
Last spring, when the time came to put Spring Break on the market for sale, it was a no brainer for us to reach out to Roy once again for representation in the sale. We knew that Roy could not handle the sale personally, but were hoping he could refer us to one of his better associates who would embody the same qualities of experience and professionalism that resulted in the successful growth of EYS into a major yacht brokerage. Roy suggested that we work with Tom Morton. Of course, we took his advice and, having recently closed escrow on the sale of our vessel, we can happily report that Tom did a fantastic job of guiding us through the preparation, marketing and final sale of the boat. From this client's perspective, Tom is a rock star. Despite some unexpected complications such as a mechanical issue and Hurricane Matthew, which together accounted for some 2-3 months of delay, Tom never wavered in his attention to getting the sale done- even as he had to occasionally soothe the nerves of an anxious seller. We wish him and EYS the very best.
Sincerely,
Cliff and Annie Colman
Voyage Yachts 430 Owner's Version

Privilege 48 5 cabin catamaran

Voyage Yachts 440

Privilege 39 Catamaran

Voyage Yachts 440 Owner's Version

Gulfstar 39 Sailmaster

Voyage Yachts 440 Owner's Version

Voyage Yachts 450

Voyage Yachts 450

Shuttleworth Shuttlecat 32

Custom Expedition Motorsailer

Custom Motorsailer

Voyage Yachts Voyage 500 Owner's Version

Voyage Yachts 500 Owner's Version

Lagoon 440 Owner's version

Monk 42 Classic Trawler

Voyage Yachts 500 Owner's Version

Golden Star 46 Sedan Trawler

Island Spirit 37 Catamaran

Island Packet

Privilege Easy Cruise

Endeavour Center Cockpit

Lagoon 55

Robertson & Caine Leopard 42 Owner's Version

Voyage Yachts 450

PDQ Yachts 34 Power Catamaran

Privilege 37 Owners Version

Dufour 50 Classic

Albin 43 Trawler

PDQ Yachts 36 Capella LRC Twin Diesels

Legacy 34

Albin 32 plus 2 Command Bridge

Voyage Yachts 440 Catamaran

Dyer 29 Hard Top

Beneteau Oceanis 40

Performance Telstar 28

Sea Ray Diesel powered 350 Express Bridge

Privilege 435 Easy Cruise

Marine Trader 40' Sundeck New Diesel

Privilege Catamaran

Voyage Yachts 450

Island Packet 38

Endeavour Center Cockpit 42

Cheoy Lee Clipper 42

Lagoon 420

Cheoy Lee Clipper

Voyage Yachts 430 Owner's Version

Mainship 34 MK I

Pearson Pearson 530 Center Cockpit Ketch

Camano

Vista Motoryacht

Vista 49 Motor Yacht

Admiral Executive

Admiral Owner's Version Executive 38

Gemini Telstar

Shannon Cutter

Shannon Cutter

Kadey-Krogen 42 Pilothouse Trawler Stabilized & Centerline Queen

Marine Trader 44' Three Stateroom Sundeck

Morgan Nelson/Marek 43

Catalina Two Stateroom Sloop

Dufour Gib'Sea 43

Fountaine Pajot Venezia

Marine Trader Marine Trading CPMY (Yachtfish)

Silverton 41 Motor Yacht

Privilege Catamaran

Hunter Center Cockpit Passage 42

BHM Downeast Cruiser

Ocean Alexander 426 Classicco Sedan

Grand Banks Classic

Hunter 41 Deck Salon

Shannon Cutter

Formosa 51 Ketch

Bayfield Yachts Cutter Ketch

Bristol Offshore 42

Catalina Sloop

Freedom Yachts Sloop

Voyage Yachts 430 Owner's Version

Hinckley Center Cockpit Ketch

Roughwater Pilothouse Trawler w/cockpit (Monk designed)

Hans Christian Yachts 41T

Chien Hwa Sundeck Trawler

Pacific Seacraft Mariah

Voyage Yachts 430 Charter version w/ business available

Kelsall Custom Suncat

Grand Banks 36 Classic

Marine Trader Double Cabin

Catalina Three Stateroom

Morgan Out Island 416 Ketch

Carver 405

Morgan Out Island 416 Ketch

Gulfstar Mark I Trawler

Hunter

Grand Banks Classic Double Cabin Trawler

Hans Christian Yachts 41T

Pacific Seacraft Dana

Vagabond Blue-water Cutter - Ketch - PRICE REDUCED - OWNER MOTIVATED

Hyatt Double Cabin MY

Woods Windsong Catamaran

Slocum Cutter - OWNER MOTIVATED - WILLING TO "DEAL NOW"

Mainship Pilot

Wellington Centerboard Cutter

Navigator Pilothouse Classic

Catalina MkII

Sabreline Fast Trawler (priced to sell FAST)

Lagoon TPI (Owner's Version )

C&C Landfall

Grand Banks Classic

Privilege Catamaran

DeFever Trawler

Uniflite Double Cabin Sundeck

Nautical Development Morgan Designed Sloop

Present Yachts Sundeck

Marine Trader Double Cabin

Morgan Classic Sloop

Marine Trader Double Cabin Trawler

Custom DOWNEAST CRUISER

Morgan Out Island 416 Ketch

American Marine Laguna 10M (refit 2000)

Morgan Nelson/Marek 43

Endeavour Sloop

Marine Trading CPMY (Yachtfish)

Grand Banks Alaskan Pilothouse Trawler MUST SELL NOW!

Com-Pac 27

Marine Trader Double Cabin

Woods Windsong Catamaran

Dean 380 Catamaran

Morgan Out Island 416 Ketch