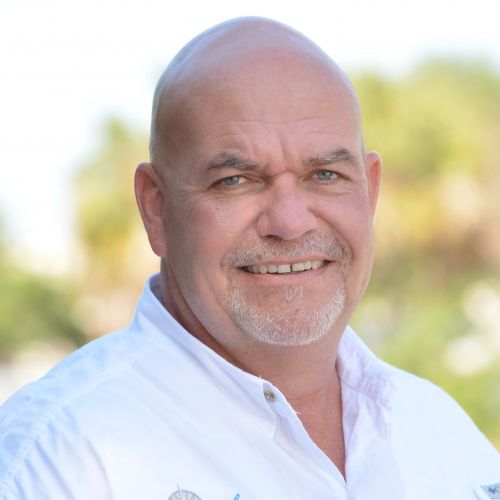 Leo Thibault literally grew up on the water, rowing his first boat before riding his first bike. From maneuvering small craft on the ponds and along the rivers of Massachusetts to racing power boats on Lake Winnipesaukee in New Hampshire and sail boats in Narragansett Bay, Leo has relentlessly pursued his lifelong obsession for boating. With his vast knowledge of both power and sail boats, Leo has turned this lifelong passion into a thriving business. Inspired by one of his favorite authors, Mark Twain, and following his own dream, Leo packed up his family and relocated to Punta Gorda, Florida several years ago and established himself as an extremely successful yacht broker.
Twain wrote: "Twenty years from now you will be more disappointed by the things you didn't do than by the ones you did do. So throw off the bowlines. Sail away from the safe harbor. Catch the trade winds in your sails. Explore. Dream. Discover." Judging by his sales figures, the number of his listings, and the loyalty of his large client base, Leo's enthusiasm is contagious.
Testimonials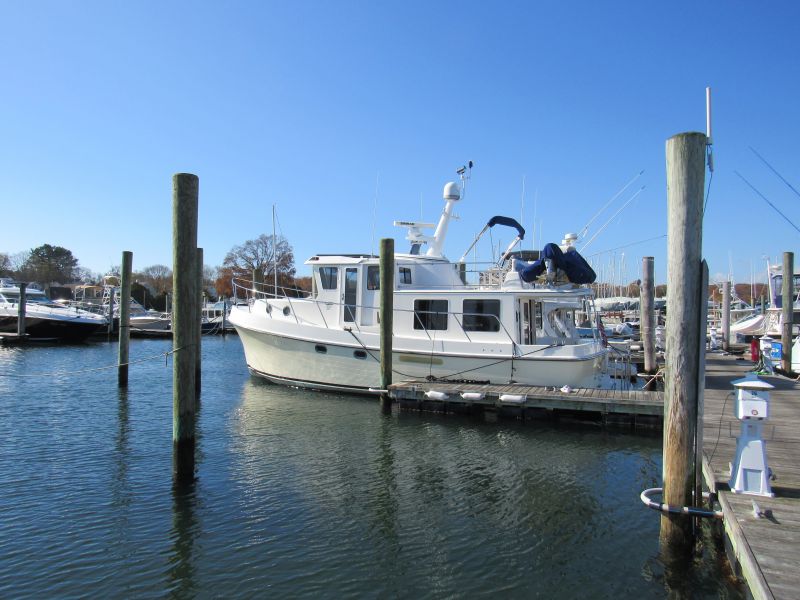 In November 2022, we were fortunate to purchase a 2013 American Tug 43 through our boat broker, Leo Thibault. Leo was a true first-class professional throughout the entire life cycle of the boat purchase.
Upon initial contact, he gathered information on our requirements and intentions for the boat. He setup an in-person tour of the American Tug factory in La Conner, WA where the boats are built. The tour confirmed the factory's top-notch quality and reputation, and that we wanted to purchase an American Tug (AT).
When an AT 43' entered the market for sale in Connecticut, he flew up to CT twice in quick succession. First trip, to inspect the boat for his listing. Second trip, several weeks later, for our survey and sea trial.
Within a couple of weeks, we closed, with Leo assisting us with the closing process. With all parties in different locations, all closing documents were conveniently executed remotely with electronic signatures.
Post closing, he assisted us with hiring of a local Connecticut boat captain (with AT delivery experience) to help me move the boat to our home port in South Florida.
We are very satisfied and grateful for Leo. With decades of experience, he is extremely knowledgeable about the boat market, providing us with valuable insight into the boats we were considering. Throughout the process, he was highly responsive with our phone, email and Whatsapp questions and updates. He was always very patient with us, never making us feel rushed or pressured. Through each phase of the process, Leo ensured its smoothness, and reducing risk of hiccups and slowdowns. We would highly recommend working with Leo and Edwards Yacht Sales for anyone looking to purchase a boat.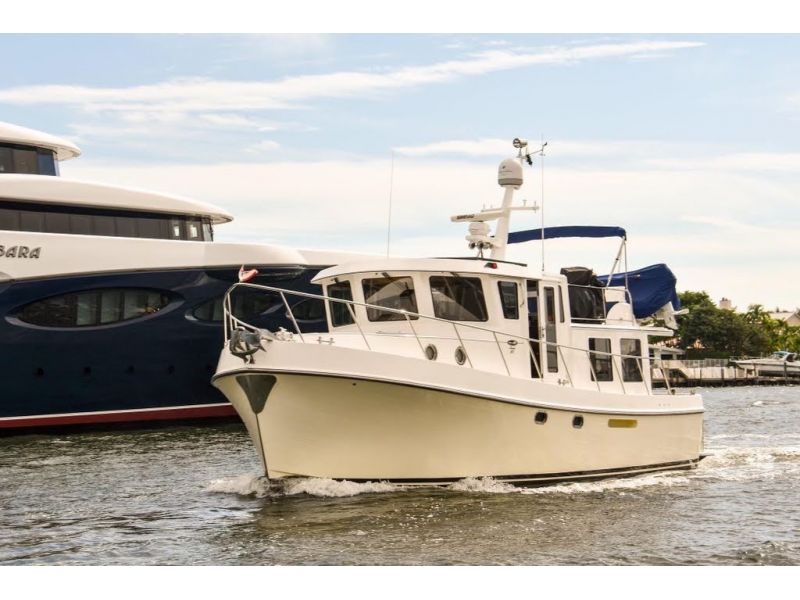 I cannot be more pleased to wholeheartedly endorse Leo Thibault and his team at Edwards Yacht Sales after having represented us in the sale of our American Tug 435. After a brief and ultimately unsuccessful and frustrating experience in Marketing "Gratitude" ourselves though an online owner's forum, I turned to Leo to represent her professionally and more broadly. I was led to Leo as he is the East Coast representative of American Tugs with full factory support. His experience with American Tugs has resulted in a great many sales of the brand, so his familiarity with the product was unmatched with anyone else on the East Coast. I was up against the wall with winterizing her in the Northeast and honestly thought the process would drag through the winter and into the spring. Geography was no limitation as Leo was on a plane within the week to meet with me, Within the following week, the boat was listed and an offer was received. Part of the benefit of dealing with so many American Tug transactions, is the ability to accumulate a database of interested buyers which proved in our case to be the ticket. Within 3 weeks of the offer we were inspected and closed. The entire experience was a delight for me as well as I believe for the buyer who is currently half way home with her to her new home in Florida.
Thank you again Leo and the whole team at Edwards Yacht Sales.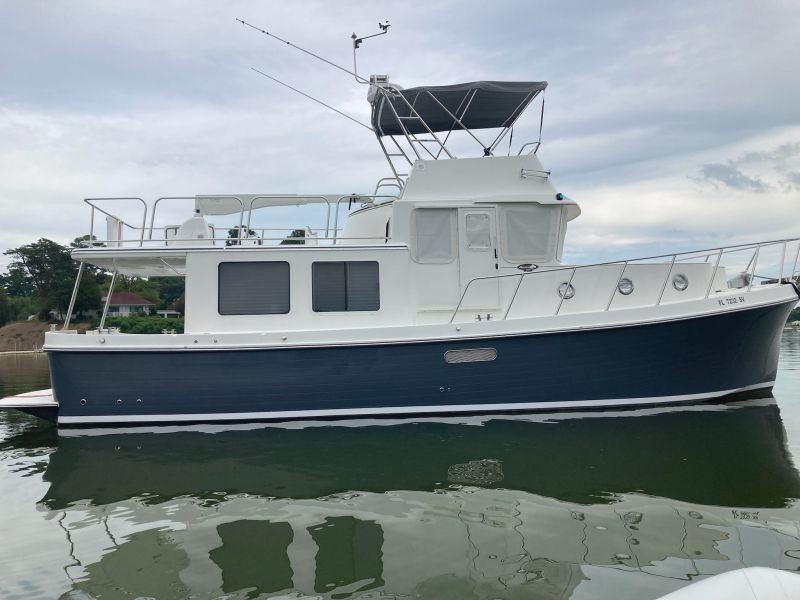 We engaged Leo to help us sell our American Tug 395. Some brokers will suggest a low starting price to make their job easier. Not Leo. He suggested a starting price that we felt was fair and accurately reflected the market. In was obvious that Leo gave the mater some serious thought. Also, it helped that Leo is very knowledgeable about American Tugs. Leo turned out to be correct about the listing price. He had the boat under contract at the full asking price in about 24 hours with other potential buyers in the wings. The sale closed with no price adjustments. Throughout the sales process, Leo worked hard, was extremely professional and communicated with us fully and regularly. We could not have been more pleased with the job Leo did for us. We recommend him without reservation.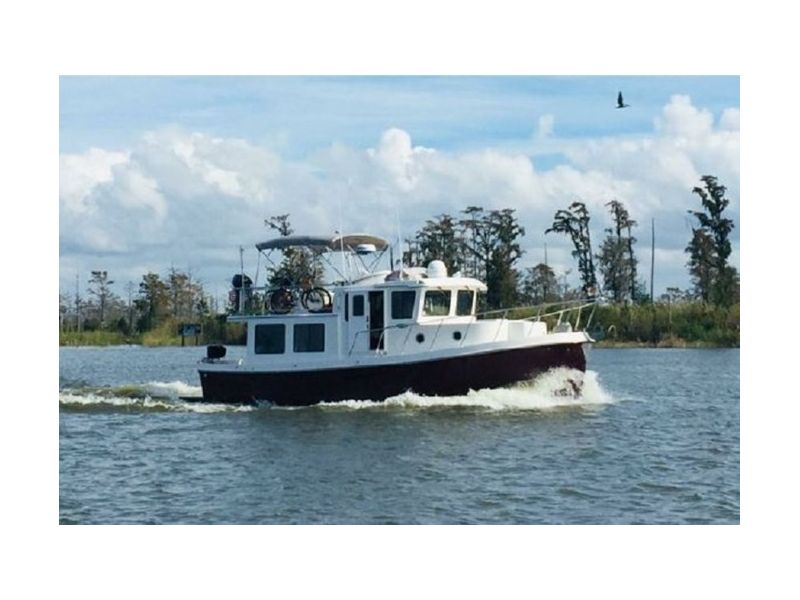 When we purchased Heartbeat (34-140) a few years ago to do the loop we were working with a broker in Portland who was great but was more familiar with sailboats than powerboats. As we were looking at AT's on the East Coast the majority of them at the time were listed by Leo. We even made an offer on one that didn't work out. Leo was extremely professional though and my broker ended up calling him a few times to ask questions about other boats. Leo was always happy to give us information even on the boat we ended up purchasing that happened to be one of the couple he was not representing. When we decided to sell our boat I didn't consider anyone else and called Leo right away. Leo met with us, there was no pressure and his knowledge of American Tugs was obvious. We have moved to Michigan and the boat was on the hard in Florida for the entire time we had it listed. Leo staged the boat, his marketing was fantastic, and his communications was second to none. This guy works his tail off and earns his commission. He constantly called us with updates on everything he did and we never had to wonder what was going on with the boat or what was going on with it once we were under contract. I am sad that we decided to sell the boat but I can't recommend Leo enough. I personally believe there is no broker on the East Coast with Leo's knowledge of American Tugs or his proven track record selling them. He is fantastic and if you are looking to sell at all, he would be worth a phone call.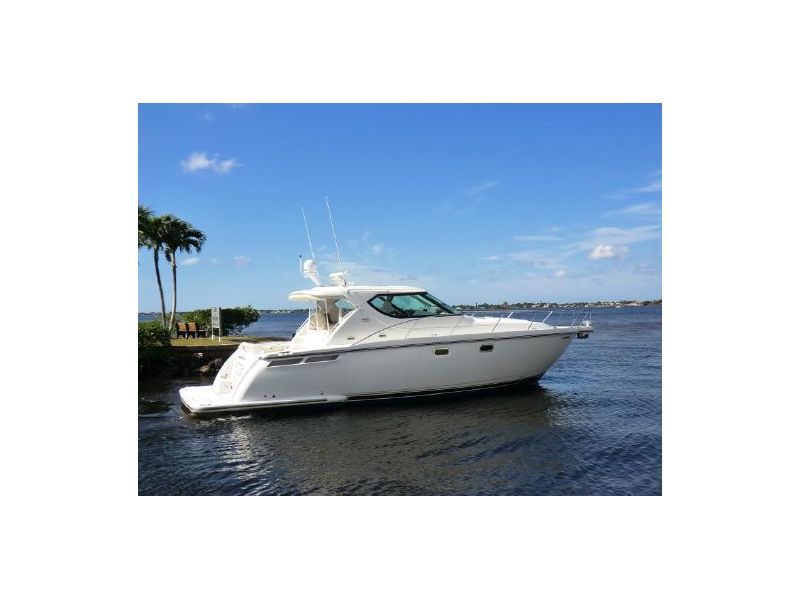 I contacted Leo last January to begin the search for my "perfect" boat. After viewing at least 15 boats from Fort Lauderdale to Miami and Fort Meyers to Tampa over the past year, he found me my "perfect" boat this December. Leo worked tirelessly, and so patiently to ultimately find me my 2006 Tiara 4300 Sovran. He is a true professional with extensive knowledge about the entire process and his communication and follow-up are second to none. He has also formed alliances with other great professionals from the surveyors to financing to mechanics and more.
I would highly recommend Leo and the Edwards team to anyone out there in the boat market.
Sincerely,
American Tug 365

American Tug 365

Rinker 342 Fiesta Vee

American Tug 435 Stabilized

American Tug 34 Pilothouse Trawler

American Tug 435 Flybridge

Robalo R 265 Walkaround

American Tug 435 Flybridge

American Tug 435

Formula 34 PC

Formula 34 PC

Endeavour Center Cockpit

Catalina Islander Twin Diesel Flybridge

Beneteau 343

American Tug 395

American Tug 395 Flybridge

Mainship 400 Trawler

Sea Ray 44 Sedan Bridge

American Tug 34 Flybridge

American Tug 34 Pilothouse Trawler

American Tug 41 Pilothouse Tug Trawler

Robalo R 265 Walkaround

Kadey-Krogen Pilothouse Trawler

Chris-Craft Corsair 25

Legacy Legacy 32

Chris-Craft Corsair 25

American Tug 485

Catalina MK II

American Tug "34" Pilothouse Trawler

American Tug Pilothouse

Beneteau 331 Oceanis

Beneteau 331 Oceannis

American Tug "34" Pilothouse Trawler

American Tug Pilothouse Tug Trawler

Marine Trader Tri Cabin

Marine Trader CLASSIC TRAWLER

Chris White Atlantic

Chris White Atlantic

Hi-Star Cockpit Motor yacht

Hi-Star Yachtfish CPMY Great Shape!!

Mako LTS

Cruisers Yachts 3650 Motor Yacht Re-Powered

Cruisers Yachts 3650 Motor Yacht

Tiara Yachts Open

Mainship Rum Runner II Great Shape

Beneteau Oceanis

Beneteau Oceanis

American Tug 365

Hunter 40.5 Wing Keel

American Tug 34 Pilothouse Trawler

American Tug Pilothouse

Hunter 33.5 wing keel

American Tug 34 Flybridge

Rybovich rybo runner by Defender Yacht Group

Block Island 40 Migrator Yachts

Block Island Block Island 40 Yawl

Sea Ray Sundancer

Sea Ray Sundancer

American Tug 34 Pilothouse Trawler

American Tug Pilothouse Trawler

American Tug Pilothouse Trawler

American Tug Pilothouse Trawler

Angel Raised Pilothouse MY

Baja 30 Outlaw

Baja Outlaw

Tiara Yachts 3100 Open Diesel Extra Clean

Tiara Yachts Open

Sabreline Fast Trawler

Sabreline Fast Trawler

Nordic Tugs 34

Nordic Tugs 34

Albin Sportfisher

Albin Sportfisher Great Shape

American Tug 34 Pilothouse

Sea Ray Sedan Bridge

American Tug Pilothouse Trawler

Catalina MK II Wing Keel Great Shape

Cabo Yachts Sportfisher Re-Powered

American Tug Rare Flybridge Model

American Tug 365 New Boat In Stock

Catalina Wing Keel

American Tug 365 New Boat In Stock

Nordic Tugs 34

Silverton 453 Motor Yacht Great Shape!

Mainship 350/390 Trawler Twin Diesel

American Tug Pilothouse Trawler

Boston Whaler 305 Conquest Great Shape

Bennington SSIX

Carver 32 Mariner

Sea Ray 390 Motor Yacht

Marine Trader Labelle

Marine Trader Tradewinds

Seaward 32RK

Mainship Pilot 30 Sedan Custom Hard Top

American Tug 34

Custom Motor Sailor

Catalina Wing Keel

Bayliner 4788 GREAT SHAPE

Bayliner 4788

Marine Trader Sundeck Nice Shape

Marine Trader Classic

Endeavour Center Cockpit

Grand Banks Trawler

Sea Ray 340 Sundancer

Angel Motor Yacht

Hunter 340 Great Shape! Lift kept

Hunter 340

Endeavour Sail Cat Great Shape!!

PDQ Yachts Fantastic Condition

Cruisers Yachts 3750 Motor Yacht

Tayana v 42

Mainship Pilot

Mainship Pilot 30 Sedan Custom Hard Top

Beneteau Sloop

Viking Motoryacht

Viking Motor Yacht GREAT SHAPE!!!!

Hatteras Cockpit Motor Yacht Re Powered

Cape Dory 30.5 SLOOP

Chien Hwa Senator Sundeck Trawler Marine Trader

Carver Sedan Re Powered

Endeavour Cat Trawler

Concorde Motor Yacht

Concorde Motoryacht

Grand Banks

Chris-Craft Crowne

Catalina 320 wing keel

PDQ Yachts Fantastic Condition

American Tug Trawler

American Tug Flybridge Trawler Turn Key!!

Marine Trader Sundeck

Navigator Pilothouse Extra Clean! Major Price Reduction!!

Hunter 40.5 One Owner Boat 3 Stateroom

Marine Trader 36 DOUBLE CABIN

Viking Motor Yacht EXTRA CLEAN!!!

Derecktor Trawler Motorsailor

Hatteras LRC

Bertram Flybridge Cruiser

Gemini 105 MC

DeFever Raised Pilot House Just Reduced

Egg Harbor BEST VALUE!

Krogen Pilothouse

Hunter Legend

Uniflite GREAT SHAPE

Heritage East Sundeck With Lots of Upgrades

Silverton Aft Cabin OWNER MOTIVATED!!

Camano SUPER CLEAN!!

Island Packet MUST SELL!!

Maxum SCR Extra Clean

Whitby Boat Works Ketch

Morgan Out Island

Marine Trader Sundeck 1 Owner Boat!!

Albin Sundeck Very Nice!!

American Tug Pilothouse Trawler

Morgan 384 Very Clean

Grand Banks Sedan VERY RARE!!!

Hunter Legend

Heritage East Sundeck

DeFever "STABILIZED" Off Shore Cruiser

Marine Trader D.C. NO TEAK DECKS

Sea Ranger Raised Pilot House

C & L Raised Pilot House

DeFever Stabilized Offshore Cruiser

Pearson

Crownline cuddy

Gulfstar Center Cockpit