Kevin resides in Pensacola and serves the NW Coast of Florida and Alabama. He is an active boater and has spent the past 20 years working exclusively in the marine industry. His experience comes from years of living aboard and working in the yacht repair, marine supply, and charter industries. He has lived and boated on all three coasts of the United States as well as the US Virgin Islands. His extensive knowledge of both power and sailboat designs and systems helps him guide his clients into finding a boat that suites their needs perfectly. Kevin has owned his 36' boat for 15 years, and can be found cruising the Emerald Coast almost every weekend with his family.
Testimonials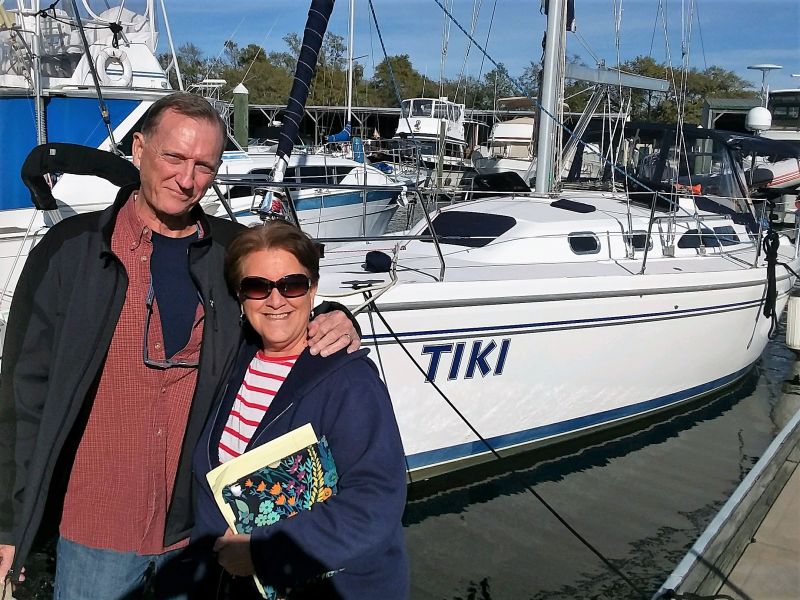 Russell and I are happy to rate and review Kevin Barber, Edwards Yacht Sales, with five stars ... and wish there were ten stars to give him.
As the broker for the seller of our Catalina, Kevin represented her extremely well by knowing her boat's every detail, thus being able to answer every question we had. No question was a dumb question, as Russell and I were learning all about Tiki. Kevin took all the time we needed, accommodated our schedules by meeting with us on a weekend and after hours, and exercised great patience with both of us, but especially with me, as I typed, from dictation, everything I thought Russell and I would not remember when we no longer had Kevin by our sides to help us! I asked Kevin how he knew so much, specifically, about our boat, and asked him if he was as comfortable talking about power boats, and he said he has had a lot of experience selling many different types of sailboats and power boats, and was equally as comfortable with both. I also asked him if he came with Tiki! He assured Russell and me that everything he had been telling us and teaching us about the boat would begin to come naturally, which it has... mostly because he took such methodical time and care to make sure we were comfortable with her before he ever turned over the keys.
During the closing process, which was akin to buying a house, he explained every step of the process, offered positive reassurance that all would be well, and acted as a seasoned, knowledgeable, and professional liaison between the seller, who was out of the country, and us. We were always "in the loop" and well advised from our initial inquiry about sweet Tiki, to the moment we backed her from her berth in Pensacola to bring her to her new home in Niceville.
Kevin has been in touch with us this entire first week of ownership, continuing to answer little questions that have popped up, as well as support us with his enthusiasm for our wonderful retirement lifetime ahead on Tiki. Kevin is an asset to Edwards Yacht Sales, and to those who come entrusted to him for honesty and expertise when buying or selling a boat. Russell and I very much enjoyed our business relationship with him, and through that feel we have made a friend in Kevin. He helped make this huge life decision easy and enjoyable thanks to his knowledge, flexibility, friendly and honest demeanor, and overall excellence in his profession.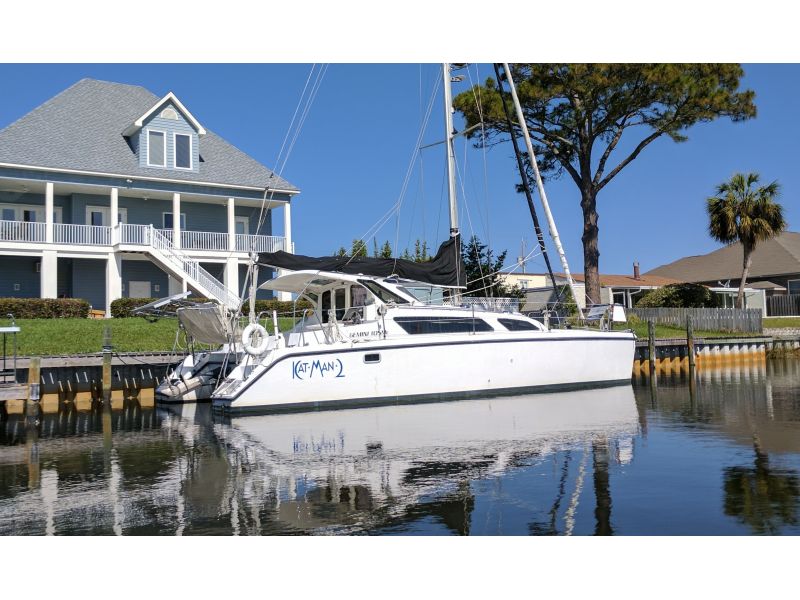 My wife and I recently sold our 2007 Gemini 105MC, "Kat Man 2" Catamaran through Edwards Yacht Sales. Kevin Barber was both our listing and selling agent, and his efforts resulted in a quick sale at a good price during a difficult market period. His ever present smile combined with his excellent communication skills proved to be a winning combination in connecting with buyer and seller. Kevin left no detail unattended, and quickly earned our confidence.
Kevin's extensive knowledge of boat systems and electronics proved invaluable during this transaction. He is definitely a "hand on" guy, and helped us immensely through this process. We recommend him highly as a true professional, leaving both buyer and seller satisfied.
Sincerely,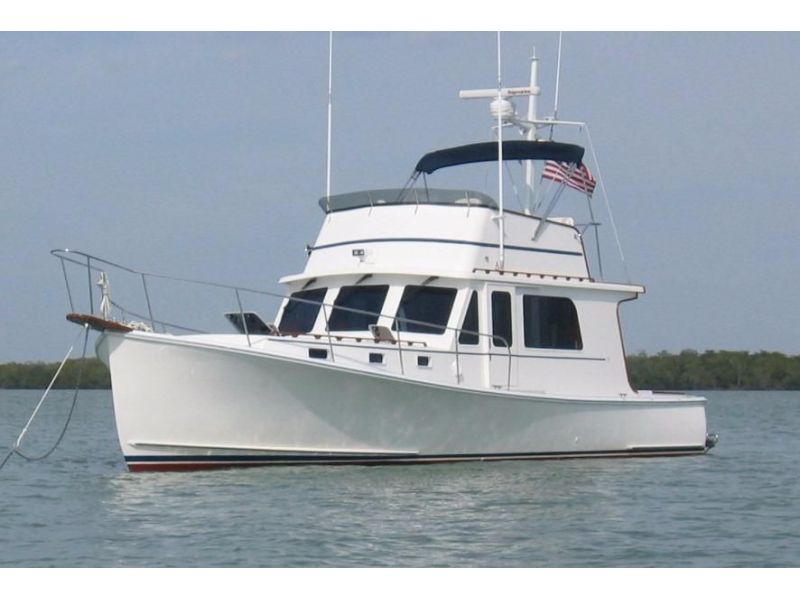 Dear Edwards Yacht Sales,
Can't tell you how many times as I got ready to sell my boat that the old bromide "Best day of owning a boat is the day you buy it and the day it sells", was repeated to me". I certainly identified with the first but though after my husbands death I needed to sell our vessel I felt great trepidation and was very worried about accomplishing the task.
I talked to various people about brokers, went on line to many sites with lots of advice, and talked to my lawyer and financial advisor as well. Then I narrowed my search down to four brokers, then down to two, one being Kevin Barber of Edwards Yacht Sales. The other had no feel for the individual qualities of my boat and sounded like a realtor that just bases a house on "square footage" whereas, Kevin, after checking out the galley, came up the passage way from the forward stateroom with a grin on his face and excitement in his voice exclaiming how well the interior and electronics were designed and thought out. He hit the very things that my husband and I had worked hard on to make our live-aboard experience enjoyable and not camping out. I had said nothing to Kevin that he could have fed off—he knows boats and that knowledge spoke for itself.
I went from dreading picking a broker and brokerage firm to relaxing and even at times enjoying the process. The boat had been sitting on the hard with the ravages of sun and weather taking a toll, so Kevin's first help was finding good people to help me get her ready to sell. His references of Perdido Sailor were perfect. Brandon and his crew, were so responsive and went above and beyond by helping me keep to my time frame when they were already very busy. Sue and Eric Lundquist were also part of the team and brought the Duffy back to her former beauty.
While all this restoration was going on Kevin was doing his homework and taking beautiful pictures to show the boat at her best and writing up the information a buyer would need to know. I was very pleased with the website and the presentation of my boat. The Edwards Yacht Sales website was one of the pluses when I was looking for a broker.
I could go on and on about how pleased I was with my choice of Kevin as my broker. He not only listens, he pays attention, thinks about the correct response and advice, before giving his reply thus allowing the seller (or buyer) the information needed to make good decisions. That is the hardest thing to do in this whole process. And above that he has a great personality, he is upbeat, respectful, and has a fun sense of humor, which lightened the load of a difficult task. Probably one of the best compliments for Kevin was when one of the people working on the boat said, "I have never know a broker who actually jumped in and helped clean up the boat so she would show her best."
That was not the end of Kevin's help. There were unforeseen problems during the sale, health issues for the buyer and banking problems for me. Kevin was there to ease the way for everyone even after he and Edwards had received payment he continued his caring service and made sure we were satisfied and the transaction complete.
Thank you again both Edwards Yacht Sales and Kevin Barber as I am most appreciative of your professionalism and your very personal service.
Best regards,
Karen Allen
Infinity & Beyond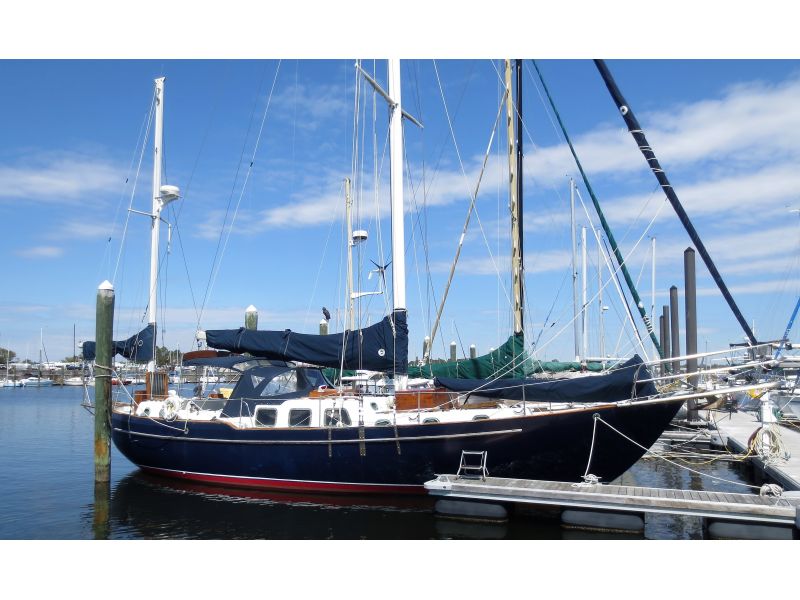 I had a traditional cruising sailboat that I knew would be hard to sell. As my broker, Kevin Barber of Edward's Yachts did a fantastic job of marketing and showing the boat that resulted in finding a buyer. I will not say the process was easy, but Kevin made it as painless as he could.
He knows boats very well, offered me excellent advice on how to prepare the boat for showing and then hand-held the buyer through the whole process, including an exhaustive survey and sea trial. His patience, good humor and encouragement were critical to the successful outcome for me, the seller, and the buyer. If you need to sell a boat, I highly recommend turning it over to Kevin. He will get the job done.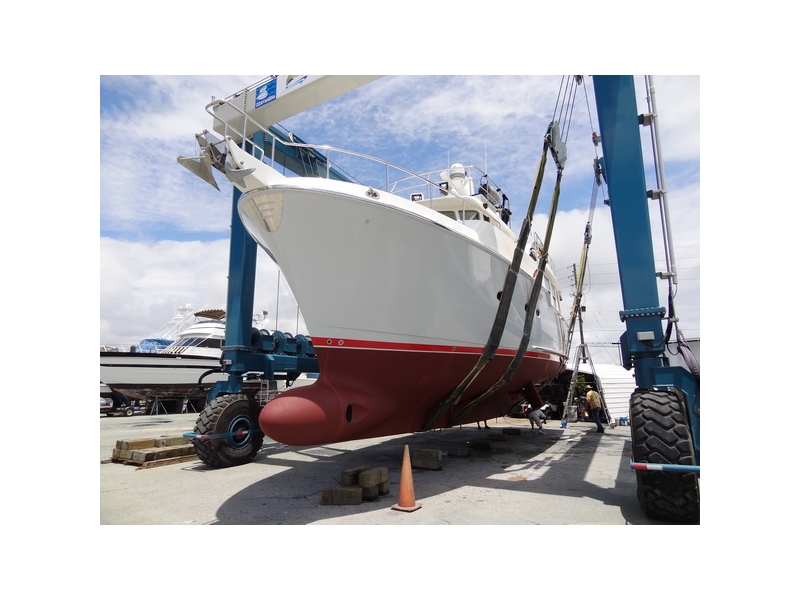 Hi Kevin B.,
When we decided to sell our 50' Nordhavn, the big deal yacht brokers in Ft. Lauderdale told us it would be next to impossible to sell our vessel if we kept it here at its home port in Pensacola, Florida. They wanted us to move it to Ft. Lauderdale because they said all the big buyers go there. Skip & I are so lucky that we didn't listen to them.
It hasn't yet been 4 months that we chose Kevin Barber to help us sell "Sea Czar", and we closed the sale today! The main reason this happened is Kevin's professional marketing of our vessel. My husband & I are still blown away by the quality of the photography and the videos he posted for potential buyers to view. The buyer of our vessel confirmed to us today that the videos made a huge difference to him. There were 5 other similar Nordhavns on the market along with ours, but Kevin made ours stand out from the rest, and it sold first!
The time between contract and closing was the least stressful period of all. Kevin handled everything with a level of knowledge and honesty that put all of the parties at ease. We appreciate everything Kevin did for us, and want you to know how lucky we think you are to have him represent your brokerage.
Kind regards,
Holly - Former Mate, "Sea Czar"
Taswell 49

Beneteau 411

Hunter 380

Hunter 41

Aquila 44

Leopard 40

Catalina 36 MkII

Nonsuch 30 Ultra

Gulfstar 47 Sailmaster

Gulfstar SAILMASTER

Hatteras Cockpit Motor Yacht

Hatteras 63 Cockpit Motoryacht

Ocean Alexander 426 CLASSICO SEDAN

Mainship 31 Sedan Bridge

Mainship 31 Sedan Bridge

Beneteau 423

Gemini 105Mc

Gemini 105 MC

Harbor Master 520 Coastal

Nonsuch 30 Ultra

Tartan Yachts 37

Tartan Yachts 37

Nonsuch 30 Ultra

Grand Banks 47 Heritage EU

Grand Banks Heritage 47 EU

Catalina 445

Meridian 490 Pilothouse

Caliber 33

Catalina 36

Island Packet 40

Viking 60 Cockpit Sport Yacht

Viking Sport Cruisers 60 Sport Cockpit

Grand Banks Classic

Grand Banks 42 Classic

Catalina 350

Catalina 350

Carver 404 Cockpit Motor Yacht

Carver 404 Cockpit Motor Yacht

Delphia Yachts 40

Delphia Yachts 40

TomCat 9.7

TomCat 9.7

Osprey 26 Long Cabin

Osprey 26 Long Cabin

Hi-Star 48 Sun Deck

Hi-Star 48 Sundeck

Hunter 45 DS

Hunter 45 Deck Salon

Catalina 36 MkII

Catalina 36

Lagoon 39

Lagoon 39

Gemini 105Mc

Performance Gemini 105Mc.

Silverton 39 Motor Yacht

Silverton 39 Motor Yacht

American Tug 34

American Tug 34

Chris-Craft 500 Constellation

Chris-Craft 500 Constellation

Tiara Yachts 3100 Open

Tiara Yachts 3100 Open

Morgan 383

Morgan 383

Mainship Pilot 34

Mainship 34 PILOT

Bavaria 44

Bavaria 44

Gulfstar 45 Hirsch

Gulfstar 45 Hirsch

Catalina 320 MkII

Catalina 320

Hudson Force 50 Venice

Hudson Force 50

Catalina 36

Catalina 36

Hunter 466

Marlow-Hunter 466

Sabre 42

Sabre 42 CB

Freedom Yachts 40 Cat Ketch

Freedom Yachts 40 Cat Ketch

Tiara Yachts 3800 Open

Tiara Yachts 3800

Catalina 350

Catalina 350

Hunter Legend 37.5

Hunter 37.5

Sea Ray 280 Sundancer

Sea Ray 280 Sundancer

DeFever 47 POC

DeFever 47 Poc Motor Yacht

Islander Sailboats Freeport Plan B

Islander Sailboats Freeport Plan B

Catalina 350

Contest 42 Center Cockpit Ketch

Westerly Sealord 39

PDQ Yachts Capella Classic

Gemini 105Mc

Westsail 42 Yawl

Performance Gemini 105Mc.

Westsail 42 Center Cockpit Yawl

Pacific Seacraft 34

Pacific Seacraft 34

Ocean Alexander 48 Classico Sedan

Ocean Alexander 48 Sedan

Gemini 105 MC

Performance Gemini 105Mc

Duffy 37 Flybridge Cruiser

Sea Ray 280 Sundancer

Duffy 37 Cruiser

Island Packet 29

Island Packet Cutter

Fountaine Pajot Orana 44

Fountaine Pajot Orana 44

Chaparral Signature 350

Chaparral 350 Signature

Bavaria 44

Bavaria 44

Sabre 34

Gulfstar SAILMASTER

Gulfstar SAILMASTER

Leopard 40

Bayliner 3870 Motoryacht

Bayliner 3870

Seaward 32RK

Seaward 32RK

Robalo 247

Robalo R247 Dual Console

Hinterhoeller Nonsuch 30 Ultra

Nonsuch 30 Ultra

Beneteau 423

Beneteau 423

Kanter Atlantic 50 Pilothouse

Hatteras 58 Motor Yacht (2013 Custom)

Hatteras 58 Custom

Marine Trader 36

Carver 410 Sport Sedan

Marine Trader Double Cabin -Restored!

Schucker 440

Schucker 440 Trawler

Hunter 460

Hunter 460

Hunter Legend 37.5

Hunter 37.5

Blue Wave 2400 PURE BAY

Blue Wave 2400 PureBay

Catalina 34 MkII

Catalina 34

Nordic Tugs 32

Monk 36

Monk 36

Beneteau 423

Beneteau 423

Hatteras Convertible

Hatteras 38

Marine Trader 36

Island Packet 32

Tartan Yachts 37

Island Packet 27 Cutter

Island Packet 29 Cutter

Island Packet 29

Mainship 40

Mainship 40 Trawler

Sabre 34 Mk I

Sabre 34

Islander Sailboats Freeport

Islander Sailboats 41 Freeport

Hunter 26

Hunter 25

Island Packet 29

Island Packet 29 Cutter

Island Packet 29

Hunter 25

Hunter Legend 43

Albin 28 TE Flush Deck w/ Generator

Albin 28 FD TE

Nordhavn 50

Chaparral 290 Signature

Cal 33

Custom Rescue Minor

Chaparral 290 Signature

Cal 33

Gulfstar

CHB 35 Trawler

Pro Sports 2660 CC ProKat

Pro Sports Pro Kat 2660 CC

EdgeWater 265CC

EdgeWater 265 CC