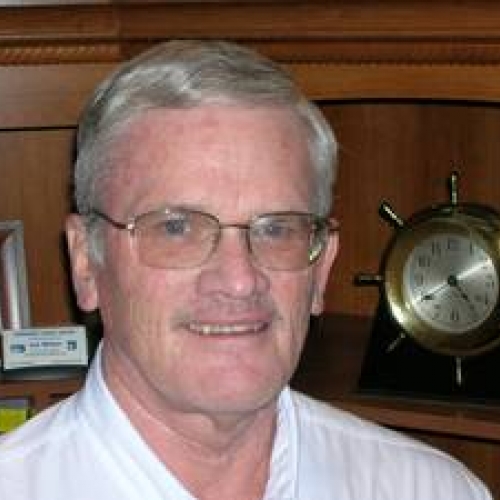 Joe joined Edwards Yacht Sales soon after it was founded following twelve years in the new boat and brokerage business. This included selling Tartan, Jeanneau, C&C, Beneteau, Catalina, Island Packet, Freedom and Lagoon catamarans for leading dealerships in New England and Florida. Joe has been a sailor for over fifty years, sailing the Gulf of Maine, Long Island Sound, Bermuda, the Grenadines, the Virgins, San Diego Bay, Narragansett Bay, Nantucket Sound, the Bay of Fundy, the Greek Isles and Bocas Del Toro, Panama.
In addition to cruising and racing his Tartan 372 with his First Mate Phyllis, Joe has captained over fifty models of mono hulls and catamarans which gives him a wealth of hands-on experience.
He founded the "Tartan Owners' New England" association and led several multi-week owner's cruises from Connecticut to Maine and New Brunswick, as well as organizing several Tartan Owner's Rendezvous.
Recently Joe has enjoyed the fun of Florida flats and Everglades fishing on a 23' Ranger bay boat and cruising his Son's 45' Carver around the Vineyard, Newport and Nantucket.
He brings a consultant's approach to both listing and selling boats, helping you define your boating or selling objectives.
Joe's goal is finding what you agree is the right boat for you or getting your boat sold in a way that makes both you and the new owner happy.
Testimonials
Joe W.,
Thank you for all your help and advice. I enjoyed working with a real professional! I will definitely spread the word around the yacht club about yourself and Edwards Yacht Sales. Also, if anyone asks if they should market their boat themselves, my answer will be a resounding 'NO'. And if someone asks if the broker's fees are worth it, I'll give them a resounding 'YES'."
Thanks again,
I have dealt with numerous yacht brokers during my lifetime. Joe is the most outstanding yacht broker that I have ever had the privilege of working with. Joe makes things happen now instead of later. He stays by your side during the whole process and thoroughly educates you on the entire journey which makes it a magnificent ride! My loyalty to Mr. Joe Weber is for life. When it's time for me to make another yacht purchase he will be the man that I deal with. Honesty and integrity is all that you can ask for in any human being. Joe Weber is that man!
If you were to be interested in Merrily, kindly contact Joe Weber, as before. Our motto is "never change a winning team" and Joe belongs to this team. Greetings from Switzerland,
Joe,
You have been a great and reliable resource and have come through with knowledge, expertise, honesty and professionalism beyond reproach. I look forward to another opportunity and hope that you will be my broker at that point.
Thanks Joe Weber,
Will not be pursuing further, thanks for your overview which I consider to be of great value. I am sure we will be talking again as it seems you truly have a straight and honest approach as a "Yacht Broker",
Restoration Expert Tampa
Hunter 386

Beneteau 400

Carver 450 Voyager Pilothouse

Hunter

Morgan O/I Custom CC Pilothouse

CSY Walkover Center Cockpit

Irwin MK III

Morgan 33

Shannon 38

Oceanic Pilot House

Pearson 37' Sloop

Pearson 424 Sloop (Updated Yanmar Diesel)

Tartan Yachts 37' KCB Sloop

Tayana Aft Cockpit

Symbol

Symbol Aft Cabin Sundeck

Marine Trader Sundeck

Catalina 320

Pearson 365

CSY 44' Walkover

Vagabond 47

Vagabond

Sabre 42

Sabre

Hunter 34

Hunter 34

Hunter 36

Island Packet 35

Wellington Trunk Cabin Motor Sailer Ketch

Hunter 460

Hunter 376

PDQ Yachts 32

Seaswirl 2601 Walkaround

Pearson 422 Center Cockpit

Tartan Yachts

Albin Sport Express Hardtop

Pearson Ketch

Tartan Yachts 3100

Cheoy Lee Clipper; Price Reduced

Catalina Tall Rig

Endeavour

Sea Ranger SUNDECK TRAWLER

Antigua Bring Offers!

Albin Tournament HT Express

Tayana Deck Saloon - RECENT REFIT

Irwin Centerboard

Hunter 33.5

Sea Sport Pacific 3200

Pearson 36-2 Keel Centerboard

Catalina Tall Rig

Cape Dory Cutter

Hunter Shoal Draft

Irwin Center Cockpit Ketch

Beneteau 473

Morgan 384

Irwin Citation

Seaward Eagle

Lafitte LaFitte

Pearson CENTER BOARD

Pearson Mark 2