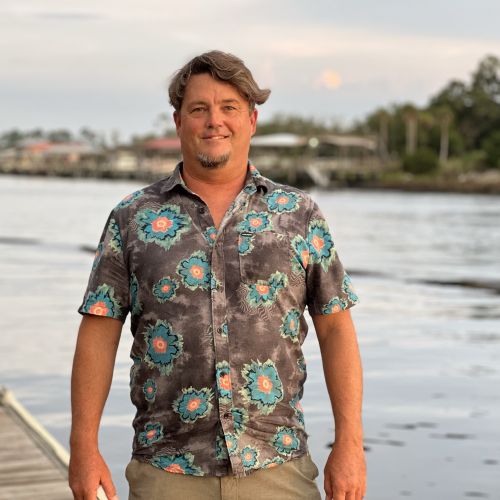 Ed Toy grew up in Melbourne, Florida enjoying boating and fishing on the Indian River, snorkeling for lobster off the beach and trolling offshore in the Gulf Stream. Ed has been a kiteboarding instructor for 20 years, and enjoys surf travel to Central America. Ed was founder and operator of First Coast SUP, a stand up paddle adventure sports company based in St. Augustine.
After moving to St. Augustine in 2000, Ed gained experience as a first mate on yacht deliveries up and down the eastern seaboard, and to the Caribbean as far as Venezuela. Ed has sailed to the Abaco Islands of the Bahamas on private boats several times from Florida, and is an experienced mariner. In 2022 Ed was hired by In the Box Charters, a fishing and scenic cruise charter company based in Costa Rica and St. Augustine, Florida. Part of his responsibilities included refits and repairs on a Tiara 4100 Open that is now available for charter.
Ed does digital marketing for the Surf Station, a surf shop in St. Augustine Beach since 1984. He got his drone license from the FAA during the summer of 2021 and does aerial cinematography and virtual tours for Real Estate and Yacht Sales. Ed's experience with marketing and effective communication skills will be invaluable in selling or buying a yacht.