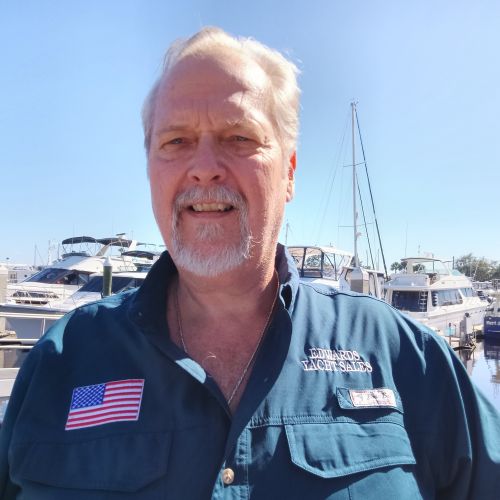 Eddie grew up on the east coast of NJ near the waters of Raritan and Barnegat Bay NJ. Boating fishing and crabbing became second nature to him at a very young age. At 16 Eddie was running his dad's 1967 30ft single engine Owens cabin cruiser on a regular basis.
Eddie always had a knack for fixing things. It started with his dad's trucking company. At age13 he was working on diesel trucks after school and weekends. After high school Eddie attended Engine Citi Diesel Tech and graduated in the top 3 of his class. Eddie at only 21years old opened and operated a diesel and truck repair facility for 20 years.
Always having the love of water and boating in his blood , Eddie moved to the Florida Keys in 2007.That's when he decided Yacht Brokering would be a great fit and opportunity to work on the water and put his knowledge of boating and mechanical experience to work.
Eddie prides himself on his old - school work ethics and his attention to detail. Eddie now lives in Daytona Beach FL with his wife Megan whom he met and married in the Florida Keys. So, if you're looking to team up with an experienced very hard-working Yacht Broker for buying or selling a boat Eddie is your guy!
Testimonials
DEALING WITH EDDIE SUL WAS A TRUE PLEASURE!
Dealing with Eddie Sul was a true pleasure. Eddie is an old school professional where a man's handshake means more than the terms and conditions hidden somewhere in the paperwork. From start to finish Eddie was "all in", all day and every day . This included weekends, after hours , and also holidays. It never seemed to matter to Eddie. Always responsive and with a most positive and upbeat attitude.
I live in Canada and closed a purchase deal for a 38 foot Express Fisherman via long distance. I relied on Eddie to represent my best interests through the whole process and cannot say enough about the quality of the representation Eddie provided. It's not a good story... it's a great story. I would strongly recommend to anyone that they use Eddie Sul if at all possible.
My next boat will be purchased through Eddie. That's a given!
Silverton 322 Motor Yacht