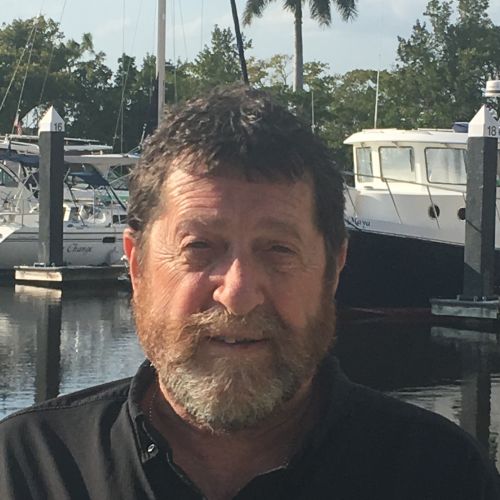 David Hipschman met his wife 36 years while living aboard a Yugoslavian-built 30-foot wooden sloop in Sausalito, California. San Francisco Bay taught him to sail. Among the boats he's since owned are a Bristol Channel Cutter, a Bayfield 32 Cutter, a Catalina 350 and his current love, an American Tug. He lives in Fort Myers, Florida and is a U.S. Coast Guard-licensed captain. His philosophy of boat-brokering is thinking of himself as an old-fashioned "matchmaker."
Hipschman has worked as a journalist and police detective and is a FAA-licensed pilot. He has more than 40-years editorial experience with a focus on international affairs, aviation and maritime issues. His career has included posts as Foreign Service Editor at the San Francisco Chronicle, Editor of Wyoming's Casper Star-Tribune, Director of Publications at the Experimental Aircraft Association, Editor/Publisher of Kinesis, a nationally distributed literary magazine; and Director of Publications of the National Association of Flight Instructors'​ print and electronic magazines. He has taught journalism at the University of Florida, created Cyberland, the first newspaper column about the Internet; and consults on publishing for private clients.
Testimonials
David took over my listing (a Searay Amberjack) after a bad experience with the previous broker. As my new broker, David's first suggestion was to RAISE the asking price as he believed the boat was under-priced. After many offers, missed appointments by potential buyers, sea trials and negotiations, I accepted an offer at ASKING price. By the way, all of this happened while I was out of state, while David handled everything.
Couldn't be happier!
David was extremely informative and most knowledgeable. He was truthful about the sailboat which I coveted and helped me make an informed decision on the boat, which I purchased. David was truthful and fair to me and the boat's owner. When I motored away from the slip David was there to cast off the lines. He even stayed with me by daily phone calls as I traveled for the three days it took me to return to my homeport. This is not my first boat but it was by far the most satisfying of all my boat transactions. David is still following my progress in the re-fit of "Lively Lady" and is still helping in any way he is able. This was a truly great experience due to an honest, knowledgeable and friendly professional. Thanks David.
We first met David in spring 2017 when we looked at a vessel he had listed. We had planned to continue searching on our own, but we liked him and his approach and decided to have him help us find our next boat.
Whereupon, began a four month relationship culminating in the August 2017 purchase of our Monk 36 Trawler. Throughout our search David was always mindful of our requirements and sensitive to our priorities. He provided us with generous lists of candidates, all the while giving candid advice. During the actual purchase process (in which he traveled to Maryland to help us) he represented us very effectively and negotiated fairly but firmly on our behalf. It was a successful transaction, and we love the boat.
David is the kind of person who starts out as your broker and ends up as your friend. Highly recommended.
Current Inventory
Listings by David Hipschman 
Sold Inventory
Listings by David Hipschman 
Island Packet 40

Island Packet Auxiallary Cutter

Carver Convertible

Mainship mark 3

Mainship mark 3

American Tug 34

American Tug AT34

Beneteau Oceanis 37

Beneteau Oceanis

Catamaran Coaches Trimaran

Catamaran Coaches Trimaran

C&C Shoal Draft 35

C&C Shoal Draft 35

Gemini 105Mc

Gemini 105Mc