Craig Massey brings with him over 12 years of experience in the marine industry. He offers his customers a vast knowledge of sales for both new and used vessels but also the maintenance and mechanical side of boating as well. Craig owned the Punta Gorda Marina for 9 years and is current owner of PG Marine Sales and Service. This knowledge allows him the expertise of knowing and understanding the issues and concerns various vessels and engines are known to have. Most sales people will talk you into buying a boat, he will talk you out of the wrong vessel and into the one that will work best for you both financially, from the start, and cost effectively down the line as well.
Testimonials
Craig Massey, a knowledgeable and honest broker gave us the best advice for our situation.
In March 2022 my wife and I took a road trip from Atlanta to the Tampa/St. Pete area in search of a 40-44' 1980's trawler in the $80-$100k range. The kind of affordable but elusive floating condo that thousands of other retirees are looking for to fulfill long-held dreams of cruising the ICW, wintering in the Bahamas, or doing the Great Loop.
After 20 years of dreaming and scheming, we were quite serious now that we are empty-nesters. The one impediment from going "all-in" and living aboard was the responsibility for keeping an eye on an aging parent which means limiting cruising to a max of 4 weeks at a time, 3 or 4 times a year.
We were in the midst of looking at some possibilities with the broker we were working with in St. Pete when we saw an Edwards listing for a 42' Jefferson in Punta Gorda brokered by Craig Massey. We made an appointment with Craig and drove the hour to meet him in his office. By the time we arrived that vessel was under contract. Not surprising given the high demand and low supply.
Nonetheless, Craig asked us a series of questions about what we were looking for and why, and what our plans were for using the vessel. He listened patiently, and after giving it some thought declared that we should not buy the boat of our dreams. Not something we were expecting to hear from a broker! He made a key point that we only needed such a vessel if we were going to be living on it full-time and shared the lessons learned from his many years' experience around boats and running a boatyard to open our eyes to the realities of what we were getting ourselves into.
So what were we to do with our dashed dreams? When we can eventually spend more than a month at a time aboard or want to expand our cruising grounds we will have to buy our own trawler through Craig. In the meantime, we have Craig to thank for getting us on the water in the best way possible for our situation.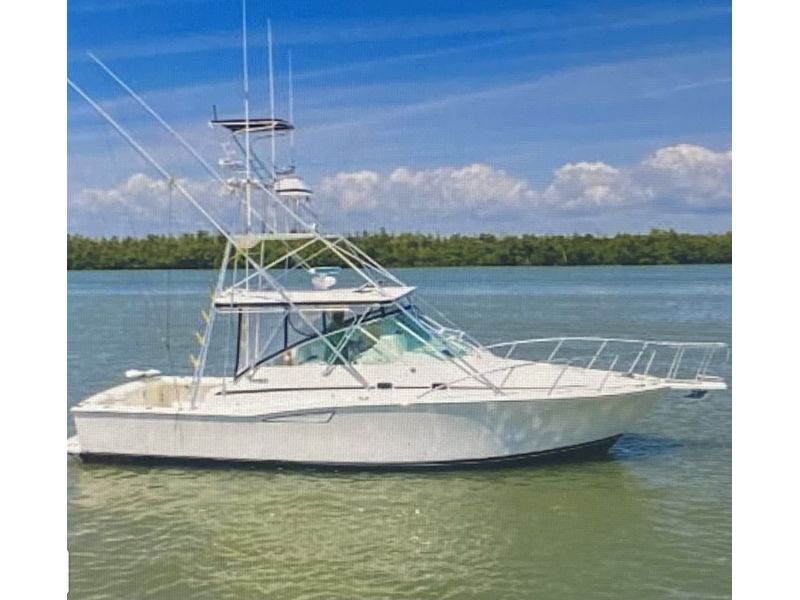 If you are looking for a full service Yacht Broker that does all the hard work for you, then look no further than the Massey Team. Craig and Shelli Massey with Edwards Yacht Sales in Punta Gorda Florida are the dream team. My wife and I began looking for a new Sportfish after relocating to the West Coast of Florida in April of 2021. After having researched dozens of Sportfish models on the Internet and travelling all around the State, wasting countless hours looking at numerous yachts, all we could say to each other when using the internet was "caveat emptor" and "there has to be a better way". Then we found Craig and Shelly Massey. We explained what we had been through travelling all around Florida in search of our dream boat, only to find boats riddled with blisters or literally just trashed. None of the boats we looked at had pictures on the Internet showing what the Vessel really looked like, just really nice pictures. Craig sat down with us to determine our boating experience, vessel history and price point, he then went to work finding our new Sportfish. Within only a couple of days he began emailing us vessels to look at that he had personally prequalified as worth looking at or not. What Craig does is find you the vessel by asking all the right questions to the Captain or the owner and if the boat meets his initial tests, he will then go and look for himself to determine if it is worth pursuing. Craig is personable, professional and passionate about what he does and it shows. Within two weeks we settled on a Cabo and again Craig went to work for us, negotiating with the sellers broker to get us the fair market value of the vessel. Once we came to the "right number", Shelli takes over making the financial documentation and paperwork seamlessly flow using Docusign. The entire experience with the Massey Team, from start to finish, was efficient and stress free. It really helps to work with professionals that are working for you, we highly recommend the Massey Team.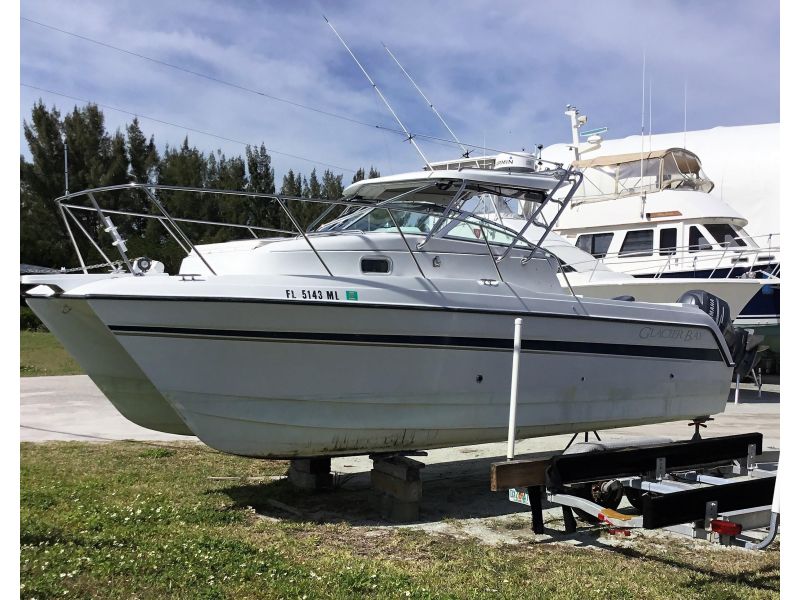 I wanted to thank Craig and Shelly Massey for their excellent service selling my boat. They made the sale painless and kept me informed every step of the way. The closing was smooth as well. I couldn't be happier.

Craig and Shelly are the most honest people I've ever met in the Marine industry (which says allot). I wasn't just treated like a customer, but they made me feel like one of their family. I'll recommend all my friends to them for purchases/sales of new or used boats as well as all for their maintenance needs.

I look forward to dealing with them in the future. They have a customer for life with me. You couldn't ask for a better representative for your company. I wouldn't hesitate to deal with them again.

Respectfully,
Century 3200 Center Console

Everglades 243CC

Cabo Yachts 35 Express

Mainship 40 Sedan Bridge

Sabre 34 Hard Top Express

Ranger Tugs R23

Mainship 31 Sedan Bridge

Robalo R202 Explorer

Scarab 23

Glacier Bay 3470 Ocean Runner

Carver C34

Glacier Bay 3470 Ocean Runner

Mainship 400 Trawler

Sea Ray 280 Sundancer

Mainship 34ft

Mainship 34ft Flybridge

Tiara Yachts 4300 Sovran

Tiara Yachts 4300 Sovran

Regal 3060 Window Express

EdgeWater 265CC

EdgeWater 265

Century Center Console

Century 2003 32ft Center Console

Hatteras 36 Sedan

Hatteras Convertible

Cruisers Yachts 3772

Cruisers Yachts 3772

Avanti Cat 5

Avanti Cat 5

Bayliner 39ft Command Bridge MY

Bayliner 3988 COMMAND BRIDGE MY

Cruisers Yachts 45 Cantius

Cruisers Yachts cantius

Grady-White 330 Express

Grady-White 330

Tiara Yachts Sovran

Tiara Yachts Sovran

Sea Ray Sundancer

Sea Ray Sundancer

Carver 440 Aft Cabin Motor Yacht

Carver 440 Aft Cabin Motor Yacht

Albin 32 plus 2 Command Bridge

Albin 32 plus 2

Camano Troll

Camano Troll

Beneteau Antares 10.80

Beneteau Antares 10.80

Maxum 4100 SCB

Tiara Yachts Coronet

Tiara Yachts Coronet

Maxum 4100 SCB

Carver 390

Carver 39 CPMY

Meridian 391

Glacier Bay 2670 Isle Runner

Mainship 30 Pilot Rum Runner

Mainship

Trophy 2902 Walkaround

Trophy 2902 Walkaround

Pro-Line Pro-Line Sport

Pro-Line 31 Sport

Sea Ray 410 Sundancer

Sea Ray Sundancer

Pursuit 315 OS

Pursuit 315 Offshore

Jeanneau NC 11

Jeanneau NC-11

Meridian 441

Meridian 441 Sedan

Sabreline Motor Yacht

Sabreline Motor Yacht

Tiara Yachts Sovran

Tiara Yachts Sovran

Sea Ray 480 Sedan Bridge

Sea Ray 480 Sedan Bridge

Mainship 31 Sedan Bridge

Mainship Bridge

Sea Ray 340 Sundancer

Sea Ray Sundancer

Sea Ray Motor Yacht

Sea Ray 480 Motor Yacht

Silverton Sport Coupe

Silverton Sports Coupe

Glacier Bay Isle Runner 2670

Pursuit 3370 Offshore

Grady-White 273

Cruisers Yachts 390 Sport Coupe

Tiara Yachts 4300 Sovran

Pursuit 3370 Offshore

Sea Ray Sundancer

Sea Ray Sundancer